Dwaine Pretorius will miss the ODIs against India and the Men's ICC  T20 World Cup 2022 due to a fracture in his left thumb. Pretorius, who took the second-most wickets for South Africa at the T20 World Cup the year before. He has been an essential part of their plans for this format. ICC T20 World Cup fans can India vs South Africa Tickets on our website.
Dwaine Pretorius will miss the ODIs against India and the Men's ICC  T20 World Cup 2022 due to a fracture in his left thumb. Pretorius has played in eight Twenty20 Internationals so far in 2022. He has taken 12 wickets at an average of 20.66. And, most importantly, he has scored quick runs with the bat down the order.
"Dwaine will consult the Cricket South Africa designated hand surgeon upon arrival in South Africa."
CSA chief medical officer Dr Shuaib Manjra stated. "The nature of the injury requires surgical intervention." Routine rehabilitation procedures will ensure his quick return to cricket."
Dwaine Pretorius will miss the ODIs against India and the Men's ICC  T20 World Cup 2022 due to a fracture in his left thumb. Sustained the injury in the third Twenty20 International on Tuesday in Indore against India. All-rounders Marco Jansen and Andile Phehlukwayo have been named to the reserves for the T20 World Cup. And one of them is likely to take Pretorius' place in Australia's squad.
Pretorius is the second important South African player who won't play in the T20 World Cup. Last month, middle-order batter Rassie van der Dussen was out with a finger injury.
South Africa T20 World Cup Squad:
Temba Bavuma, captain; Quinton de Kock; Heinrich Klaasen; Reeza Hendricks; Keshav Maharaj; Aiden Markram. David Miller; Lungi Ngidi; Anrich Nortje; Wayne Parnell; Kagiso Rabada; Rilee Rossouw; Tabraiz Shamsi. Tristan Stubbs; Dwaine Pretorius, who has been ruled out; a replacement has not yet been named
Bjorn Fortuin, Marco Jansen, and Andile Phehlukwayo (ex-captain) wait for the Proteas to decide whether to select Faf du Plessis for this year's ICC Men's T20 World Cup.
Former South Africa captain Graeme Smith says the Proteas have a hard choice about selecting Faf du Plessis for this year's tournament.
Du Plessis is one of a group of players who have left Cricket South Africa and are no longer under contract. It is unknown whether any free agents will be chosen to play for the Proteas at the T20 showcase in Australia in October.
When it was decided that free agents would not participate in the tournament in Dubai last year, Smith was Director of Cricket at Cricket South Africa. This year's selectors face a similar decision. ICC T20 World Cup 2022 fans can ICC T20 World Cup Tickets on our website.
Smith stated on Star Sports, "South Africa has got an equation where they have to figure out their best XI."
"Players are competing in leagues worldwide…how much time can he (Du Plessis) devote to South Africa before the World Cup?"
Despite his most recent appearance for South Africa at the end of 2020, du Plessis has been retired from international cricket for a considerable time in the sport's longer formats. On the other hand, he has yet to retire from 20-over cricket officially.
Faf Du Plessis
He is still well-known as a big game player, and his talent is undeniable. During the two most recent IPL seasons, he displayed numerous star qualities. Du Plessis helped Chennai Super Kings win their fourth IPL title last year with a brilliant performance, and in 2022, he scored 468 runs to help Royal Challengers Bangalore get past the Eliminator stage of the tournament.
Du Plessis, who is 37 years old and has scored the fourth most runs for the country in 20-over cricket, has also played a crucial role for the Proteas in the past at the T20 level.
Smith pondered the question, "Do they pick him straight for the World Cup, or should he be part of the build-up where he understands the team culture, the thinking, training, and preparing?"
"India does not face that challenge, but dealing with free agents is challenging for other nations.
"The team must decide how much time Faf needs to spend with the team," the statement reads.
"We know Faf has the ability."
Smith stated that he had not spoken with du Plessis recently and was unsure if the former captain would be interested in participating in the four-week Australian tournament.
According to Smith, "Maybe he is in that phase of his life where he is happy to play the leagues, maybe he is retired from international cricket, maybe that's where he wants to be."
The T20 World Cup begins on October 16, and South Africa's first match will be against a qualifier from the First Round on October 24 in Hobart.
Read More: Top 10 Most Popular Participation Sports In The World
Morne Morkel
A former quick for South Africa wants to see Faf du Plessis play in the T20 World Cup. Morne Morkel, a former quick for South Africa, wants the Proteas to take a chance and include star batter Faf du Plessis in their team for the ICC T20 World Cup this year.
Even though du Plessis no longer has a contract to play for Cricket South Africa. The 37-year-old showed that he still has what it takes to succeed at the highest level by scoring 468 runs for Royal Challengers Bangalore in the most recent IPL tournament. Du Plessis was left out of last year's T20 World Cup in Dubai. And this year's 20-over showcase selectors must now decide whether to include the veteran right-hander in their lineup.
Morkel concurs with Graeme Smith's recent suggestion that du Plessis should be considered for the four-week tournament. At an event in Melbourne to mark 100 days until the start of the T20 World Cup in Australia, Morkel told ICC Digital.
"You want all your big-name players to play, and Faf is still playing well at the age of 37."
"He continues to play well, moves well on the field, and has performed exceptionally well for RCB (in the IPL)."
"I would like to see those veterans in the team.
"That is up to them (Cricket South Africa), but I support it," the author asserts.
Morkel is still confident that his former team can compete at the T20 World Cup this year. Regardless of whether du Plessis is included. It remains to be seen whether du Plessis earns a spot in South Africa's squad.
Bowling Strength
The Proteas have a formidable bowling attack led by towering quick Kagiso Rabada and experienced spinner Tabraiz Shamsi. Who drew their most recent Twenty20 series 2-2 away from home against India. That pair took eight wickets each at the tournament the year before. And Morkel hopes for a similar performance this time.
Morkel observed, "I honestly believe they have an attack that will suit these conditions well."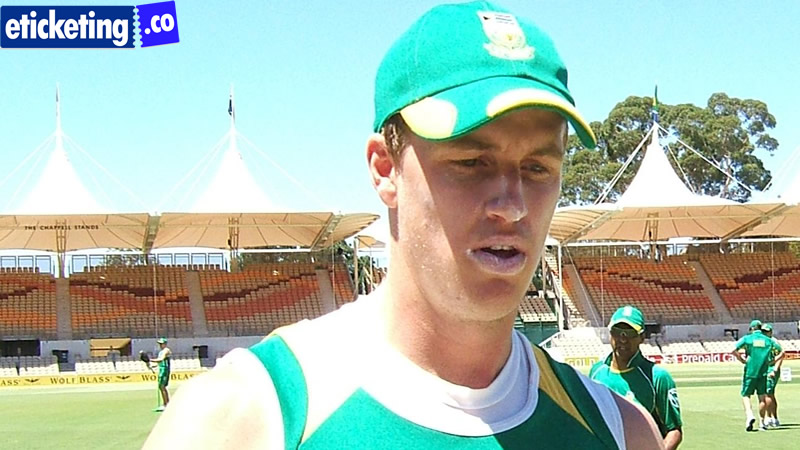 "Kagiso Rabada is a world-class performer. Anrich Nortje performed well at the Indian Premier League, and Shamsi is a good spinner.
"I do believe that it is a well-balanced team, and T20 cricket is so close these days,"
Morkel, a former pacer, expects big things from the Proteas' top order. Which includes captain Temba Bavuma and classy opener Quinton de Kock. However, Morkel believes South Africa can surprise with the bat. Morkel stated, "You can't mention Quinton De Kock as he has been in some fantastic form" from a batting perspective.
"Aiden Markram is another good player, and Bevuma, despite not being your typical T20 player. He knows how to score runs and rotate the strike.
"He will be a big player on these fields (in Australia), where you can hit pockets and run well."
The T20 World Cup begins on October 16. And South Africa's first match will be against a qualifier from the First Round on October 24 in Hobart.
eticketing.co is the best website to buy T20 World Cup Tickets.